12th Annual Back-2-School Supplies Give-Away · Any K-12
MonTueWedThuFriSatSun 1:00pm to 5:00pm
Select grade for Fees

Free
12th Annual Free School Supplies Event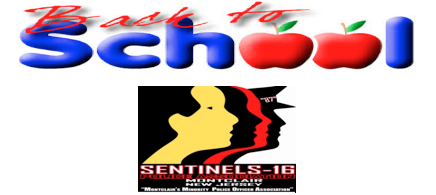 On-line (Pre-registration) closed August 20th
You must register on-site the day of the event
Children must be present!!
IN PARTNERSHIP WITH
Bravitas Group, INC
Brother To Brother
Comcast
Craftsman Club of Eureka Lodge #52
MC Hotel
Montclair Cobras Junior Program
Montclair Alumnae Chapter - Delta Sigma Theta Sorority, Inc.
Montclair Education Association,
Montclair NAACP
Montclair Neighborhood Development Corp. (MNDC)
Montclair Police Athletic League
Placek Family
Reaching Out Montclair
Schlaefer Masonry
Tonis Kitchen
Wally Choice Community Center - 49 Maple Avenue
Sunday, August 25, 2019
1pm - 5pm
*Book Bag Giveaway 3pm - 5pm*
Information for parents, Hot Dogs, Hamburgers,
Games, Free Haircuts, Face Painting, Free Basketball Clinic
For Further information and to make donations
Contact Officer Anjannette Sanders @ (973) 715-2524
Lieutenant Tyrone Williams, Jr. (973) 509- 4729
Pre-registered children will be served first!!!
Supplies are limited
Children must be present!!
After August 20th you must register on-site the day of the event.

Montclair Residents Only